LVMH to 'buy' Galleria Vittorio Emanuele II: Dior will pay 5 million a year to relieve Versace
The French luxury giant's GROUP has broken all records, imposing itself on Prada or Hermès in an auction whose bidding price started at 950,000 euros.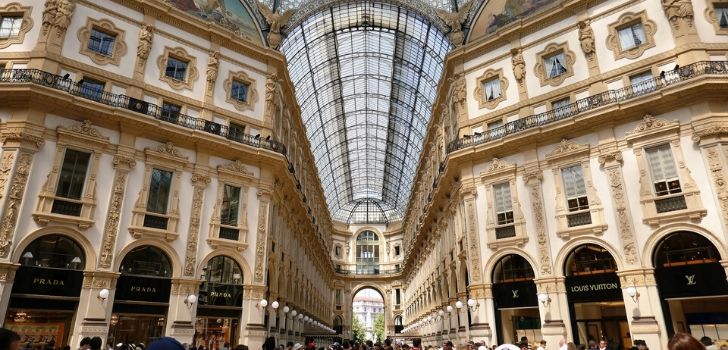 LVMH conquers Galleria Vittorio Emanuele II to expand Fendi and Dior bigger. The luxury group, led by the French entrepreneur Bernard Arnault, has just signed record rental transactions to get its Fendi and Dior brands in the coveted Milanese space. LVMH is already present in Galleria Vittorio Emanuele II with Louis Vuitton.
As published by the Italian press, Fendi and Dior will occupy the premises where until now the Italian firms Armani and Versace operated. Dior has reached an agreement whereby it will pay more than five million euros annually over the next eighteen years. Fendi, for its part, will disburse more than 2.4 million euros (2.8 million dollars) per year for the same period.
Dior's entry into Galleria Vittorio Emanuele II sets a real estate record for the high price paid. The contract is the result of an auction, which was attended by six other brands: Hermès, Damiani, Max Mara, Prada, Yves Saint Laurent, and Versace. The starting price at the auction for the rental space was 950,000 euros.
The space that Dior is to occupy has been filled by Versace (whose contract expires next December) since 2013. The store has an area of ​​324 square meters and is situated in the central octagon of the gallery.
The store where Dior will be placed has been occupied by Versace and has an area of ​​324 square meters
Meanwhile, Fendi will take over from Armani. The result of the latter changes equally came about during the auction process, with a starting bid of 872,000 euros. Fendi and Prada were finalists in the bid, in which companies like Bottega Veneta also participated.
Galleria Vittorio Emanuele II is one of the principal destinations for tourists in Milan. The building, built between 1865 and 1877, is formed by two perpendicular arcades covered by a glass and iron vault. The world's leading luxury firms have a presence in space.