From Levi's to Diesel: denim kings reinvent themselves after athleisure's slump
The jean fever in the second half of the last century led to the birth of companies such as Levi's, Wrangler, Lee, Guess or Diesel. Now, after a few years of difficult business, all of them are benefiting that denim is back on trend.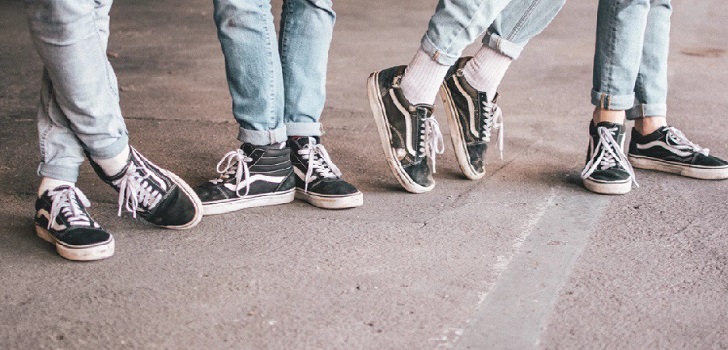 The economic crisis, changes across the fashion system and the athleisure's boom stopped the expansion of the denim market, which had detonated in the sixties with the first youth counterculture movements and spread its shock wave during the following five decades. During this time, the rise of this fabric in fashion has given rise to global brands such as Levi's, Wrangler, Lee, Guess or Diesel.
Over them, large international groups with business figures over one billion dollars have been forged, such as Levi Strauss, PVH, VF Corporation or OTB, among others. Now, after a few years of a growth slowdown or even sales decrease, all of them are forging a comeback. The emergence of fast fashion in the denim business and the emergence of new generations with a new consumer culture force companies to rethink their model, their product and their raw material to defend their leadership in this sector.
Denim is from the United States: from Levi Strauss to Wrangler, from Lee to Calvin Klein, the biggest players in this market have their origins in this country. Cradle of workwear, urbanwear and streetwear, the American culture has given rise to the explosion of this resistant, comfortable and easy to wash fabric exporting it to everyone not only as the standard of the American way of life, but of the Western way of life.
International denim companies have given rise to the birth of large corporations such as PVH, VF Corporation or OTB
His pioneer, Levi Strauss continues to lead a juggernauts' ranking that for a decade have tried to find a new formula to continue expanding the business. After a period of stagnant sales, denim giants are immersed in improving their relation with the consumer and become prominent again in their closets to continue extending the limits of their market.
In recent years, the global advance of fast fashion (with more competitive prices and more basic products) has gained ground. The athleisure trend hadn't been favourable neither to them, leading to a inexistent evolution of denim, trapped in a single model, the skinny.
Companies' financial performance in recent years clearly show this scenario. Between 2013 and 2017, Levi Strauss has increased revenues only by 5%. The denim division of VF Corporation, which comprises Wrangler and Lee, has decreased its sales by 5.5% in the same period.
Abercrombie&Fitch initiated a sale process in 2017, but cancelled after a few months due to a lack of interest from investors
In fact, in August 2018, the Greensboro-based company decided to segregate the denim business area through a spin-off. VF's goal now is to focus on brands such as Vans, The North Face or Timberland, among others.
PVH, owner of Tommy Hilfiger and Calvin Klein, posted a turnover rise of 2.7% in the last five years, while Abercrombie & Fitch shrunk its revenues by 15%. The company tried to find a buyer in 2017 but had to cancel its sale plans due to a lack of interest from investors. Guess, on the other hand, also faced decreasing sales in the period, in which it marked an 8% decrease.
In Europe, the largest denim players also faced a rough environment. OTB, owner of Diesel, hadn't had better luck in this last five years. The company founded in Renzo Rosso has decreased its sales by 3% in the last five years. Italian player Fashion Box, owner of Replay, has advanced by just 5% in five years.
American urbanwear brand Aéropostale almost disappeared, entering a liquidation phase. However, it eventually got acquired by Authentic Brands Group for a sum of 250 million dollars and saved itself from bankruptcy. The urban fashion chain ended fiscal 2013 with a turnover of 2.09 billion dollars and in 2016 entered into bankruptcy.
In Europe, the largest denim companies had a similar evolution to their US peers
Between 2013 and 2017, there were other victims of the denim crisis such as American Apparel, which was rescued by Canadian group Gildan Activewear from the bankruptcy proceeding; True Religion, which at the end of 2017 was also rescued from a bankruptcy proceeding, and 7 For All Mankind, which in 2016 VF Corporation sold to the Israeli industrial group Delta Galil together with the Splendid and Ella Moss labels.
In the case of True Religion, which operated with 128 stores in the United States and eleven shops worldwide in its heyday, besides a broad presence in wholesale, filed a Chapter 11 petition. The company is still owned by fund Tower Brook Capital Partners.
At the opposite side of the spectrum, there are groups such as American Eagle Outfitters or British player Superdry, which have registered double-digit sales increases. For American Eagle, turnover climbed 15% in the last five years, while the British brand has doubled its revenues to 872 million pounds (978 million euros) in 2017. Spanish denim group Pepe Jeans, has also registered double-digit growth in this last five-year period.
American Eagle Outfitters and Superdry were among the denim companies that registered a turnover increase between 2013 and 2017
Despite the fact that the majority of international denim groups have registered some difficult years, a business recovery has started to take shape in 2017. Only the denim division of VF Corporation and Diesel's parent company OTB reduced their sales last year. On the other hand, Levi Strauss raised them by 7.7%; PVH increased them by 8.3%; Abercrombie&Fitch posted a 5% surge, and Replay's turnover went up by 4.5%.