Inditex steps up online push and introduces Oysho at Lamoda, Rocket Internet's jewel
Founded in 2010, Lamoda belongs to Global Fashion Group, the business division where Rocket Internet puts together its ecommerce platforms for emerging markets. The company operates in the Commonwealth of Independent States (CIS).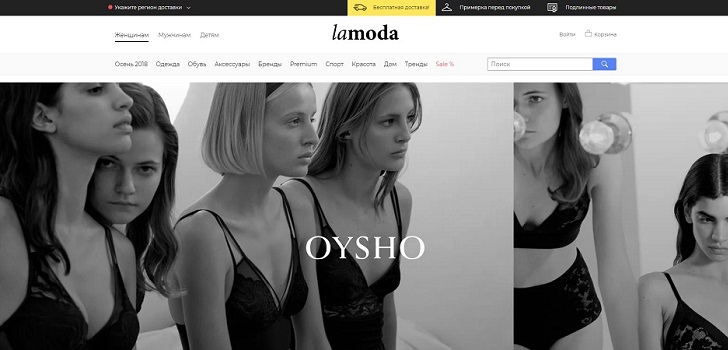 Inditex relies again on marketplaces to boost its online business. The group, which has set itself the goal of selling through ecommerce worldwide in 2020, has signed an agreement with Russian platform Lamoda, owned by Rocket Internet, to start trading Oysho.
Lamoda was founded in 2010 and sells fashion, cosmetics and sporting goods for the so-called Commonwealth of Independent States (CIS): Armenia, Azerbaijan, Belarus, Kazakhstan, Kyrgyzstan, Moldova, Russia, Tajikistan and Uzbekistan.
The company is part of the Global Fashion Group, Rocket Internet's spin off for fashion platforms in emerging markets. Along with Lamoda, Global Fashion Group comprises Dafiti (South America), Namshi (Middle East), Zalora (Southeast Asia) and The Iconic (Australia and New Zealand).
Lamoda focuses its distribution in Russia and nearby countries such as Armenia, Belarus and Kazakhstan
Lamoda is the largest platform of all, with a turnover of 405.1 million euros in 2017, 32.8% more than in the previous year. The company's gross profit soared 25% to 151 million euros.
The group operates with more than 2,000 regional and international fashion brands such as Nike, Asics, Tommy Hilfiger, River Island, Gap, Adidas, Lacoste and Mango, one of the few Spanish brands present on the platform.
The entry of Oysho at Lamoda comes at a time of heavy expansion for the Spanish retail chain. Last year, Lamoda introduced a new business model, Fulfilled by Lamoda, a marketplace format that allows brands to sell through the platform and obtain a complete full-service including delivery, warehouse and customer service. Besides, the company continued to increase its physical network of delivery points and introduced a new deferred payment system.
Global Fashion Group was created in 2014 by Rocket Internet and Swedish investment fund Kinnevik, also promoters of Zalando. The group registered revenues of 1.09 billion euros in 2017, 23.5% more than in the previous year.
Inditex bets on marketplaces
What seemed impossible on the street was made possible by ecommerce: Inditex selling in a multi-brand store. In recent years, the world largest fashion distributor by revenues has signed several alliances with leading online fashion platforms to increase its market share.
Zara's owner began to test this channel with the help of stock sales platforms such as Vente Privee, Privalia or BuyVIP. In 2013, the group took a leap forward and landed in Asos, where it first introduced youngsters' brand Pull&Bear.
A year later, Inditex closed a deal with Tmall, owned by Chinese giant Alibaba, to take several of its chains to the platform. The last one that was introduced was Uterqüe in 2018. Last year, the group started selling Oysho at Zalando, the same brand chosen to start operating at Lamoda.
The intimate and swimwear chain is present in 65 markets with physical stores and in 33 countries with its own ecommerce platform. Oysho was the second faster-growing Inditex chain in 2017, with turnover rising 12% to 570 million euros. The company did 34 store openings last year, becoming the third concept of the group that opened more shops last year, just behind Zara and Zara Home. Oysho has 675 stores in 54 countries.
Inditex ended fiscal 2017 with revenues of 25.34 billion euros, 9% more than in the previous year. Ecommerce represented 12% of the company's turnover, accounting for 2.53 billion euros last year.