Inditex turns into a pure player amid business model concerns
The Spanish group will sell via ecommerce worldwide by 2020, regardless if it operates brick-and-mortar stores or not. Besides, the company will integrate both its online and offline stock and take advantage of its physical capillarity in front of Amazon or Asos.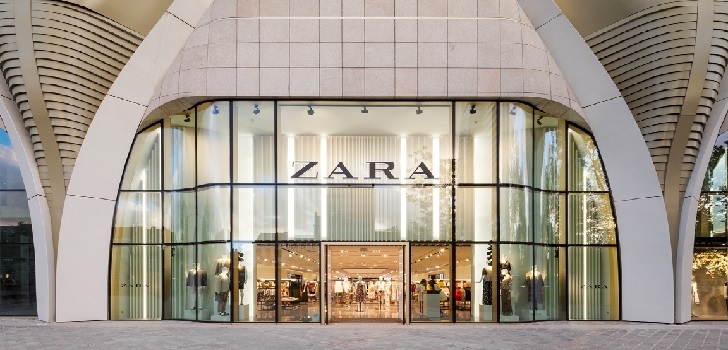 Click wins over brick. At least in fashion business. The biggest player globally, Inditex, announced yesterday the major business model transformation since its foundation. Zara's parent company will turn into a pure player. By 2020, Inditex will sell online in all countries worldwide, regardless if it operates brick-and-mortar stores or not. This way, the company founded by Spanish tycoon Amancio Ortega will by then have a bigger online presence than in the physical world, equalling or even surpassing operators such as Amazon, Alibaba, Asos or Zalando.
Over the last few years, online distribution has taken giant steps compared to brick expansion, throwing concerns on the strategy followed by international groups such as Inditex or H&M. The latest proof was evidenced by a Morgan Stanley report published last week, which gave Inditex an 'underweight' rating, pushing down its stock price and dragging the whole Ibex-35.
"It's increasingly sensitive to currencies, has recorded margin drops in the last five years and faces the same pressures to shift from channels as the majority of clothing groups," said Morgan Stanley. As if it was giving an answer to the investment bank, Pablo Isla, Inditex's chairman, announced yesterday that all Inditex chains will sell online in 2020. So Inditex has already shifted from distribution channel.
Inditex aims to have a presence in more countries through the online channel rather than the physical one, posing a threat to pure players like Amazon or Alibaba
During an encounter with journalists in Milan, where the group reopened this week its first store in Italy, Isla announced that operational details of this model shift will be advanced soon.
If the goal is fulfilled, the Spanish juggernaut will sell online in more than 190 countries, while it currently operates with brick stores in 94 nations worldwide. Looking at the path followed in recent years, Inditex won't open many stores in new markets in the future, so that online penetration will double its offline footprint.
The store network in each country isn't probably going to grow. In fact, the fourth quarter of fiscal 2017 marked a turning point for Inditex, as it reduced its store count for the first time. However, the group is increasing the surface of existing shops, turning them as well into warehouses for the online business.
The company expects to have ecommerce activity in over 190 countries in 2020
Physical stores catering online orders will help Inditex to gain logistics capacity. The 2020 goal is also possible thanks to the complete rollout of the Rfid technology in all chains and stores, which will enable an integrated stock management.
Brick presence, seen as the weakness of the business model, becomes a powerful tool at the service of another channel. With countless stores in main streets across the world, Inditex chains do not only have more visibility than Amazon, Zalando or Asos, but also more capillarity and logistics' speed.
Moreover, Inditex has been building up an ever-increasing warehouse network exclusively dedicated to online orders that it calls stock room. Last March, the company operated nineteen platforms in seventeen countries, with plans that each country has at least one platform for this purpose. Currently, those logistics platforms can cater orders from any place worldwide, while brick stores just support online business at a country level.
Inditex operates with 19 logistics platforms in 17 countries to support online business
Despite the fact that Inditex has taken steps to initiate the "channel shift" requested by Morgan Stanley, there are also some external factors that threatens its model. First, currency headwinds, one of the issues along with unseasonable weather that negatively impacted the business.
Number two is gross margin, which weakened again in fiscal 2017, from 57% to 56.3%. In the fourth quarter, Inditex's margin stood at 53.4%, the lowest rate since 2011. In addition to currency headwinds and unseasonable weather, the increasing sales share represented by ecommerce has also an influence on margin.
Some of Europe's fashion pure players, such as Asos and Zalando, have lower margins than Inditex. The British group ended 2017 with a 48.6% gross margin, while Zalando's marked 43.6%. On its annual report, the German group indicates that "in general terms, gross margins of online fashion players range from 40% to 60%."
Inditex, which also owns retail chains such as Bershka, Stradivarius, Pull&Bear, Oysho, Uterqüe, Lefties and Zara Home, ended last fiscal year with a turnover of 25.3 billion euros, 12% more, and a net income of 3.3 billion euros, which represented an increase of 7% compared with 2016.