LVMH: Delphine Arnault joins executive committee
The 43 year-old executive is the second woman who joins the committee, together with Chantal Gaemperle, LVMH's HR manager. Currently, Arnault supervises the product management at Louis Vuitton.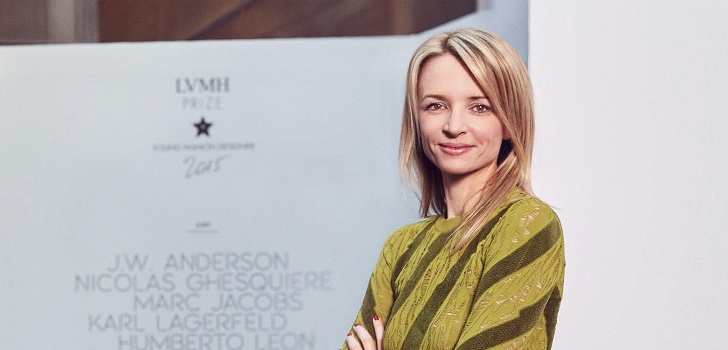 The LVMH group reinforces its management body. The luxury conglomerated has named Delphine Arnault new member of the executive committee. The executive is the daughter of Bernard Arnault, chairman and CEO of the group. After Chantal Gaemperle, HR manager, Delphine is the second woman in LVMH's committee, which at present consists of 12 members.
Arnault, at 43 years old, has also become the youngest member of the group managing body, which includes Antonio Belloni, Deputy Director General at LVMH; Nicolas Bazire, Development and Acquisitions Manager; Pietro Beccari, Chairman and CEO at Christian Dior Couture; and Michael Burke, chairman and CEO at Louis Vuitton.
The management body is completed by Chantal Gaemperle; Jean-Jacques Guiony, Financial Director of the group and President and CEO of La Samaritaine; Chris de Lapuente, CEO of Sephora; Philippe Schaus, Chairman and CEO of Moët Hennessy; Sidney Toledano, Cresident and CEO of LVMH Fashion Group; Jean-Baptiste Voisin, Strategy Director of the LVMH group and President of LVMH Métiers d'Art, and Bernard Arnault, Chairman of the luxury conglomerate.
LVMH has an executive committee composed of twelve members
Delphine Arnault works in Louis Vuitton since 2013, and is the second on board, in charge of supervising product management at the company. The executive studied in Edhec Business School and London School of Economics, and started her career as a consultant in McKinsey.
Arnault began working in the fashion sector in 2000, supervising the business development of John Galliano. One year later, Delphine Arnault joined Christian Dior Couture as Commercial Director and then she was promoted to Deputy Director General. In addition to this, she was the initiator of the LVMH prize.
Three of Delphine Arnault's siblings also work at the group: Antoine is CEO of Berluti, Alexander is in charge of the position of CEO at Rimowa and Fréderic is Strategy Director at Tag Heuer. LVMH had a revenue of 33.129 million euros between January and September of 2018, 10% more than in the same period last year, when it received 30.095 million euros of earnings.