Burberry stagnates sales but soars benefit 15% in 2018
British luxury group has ended 2018 exercise with a volume of business of 2,720 million pounds (3,503 million euros), 0.4% less than previous year.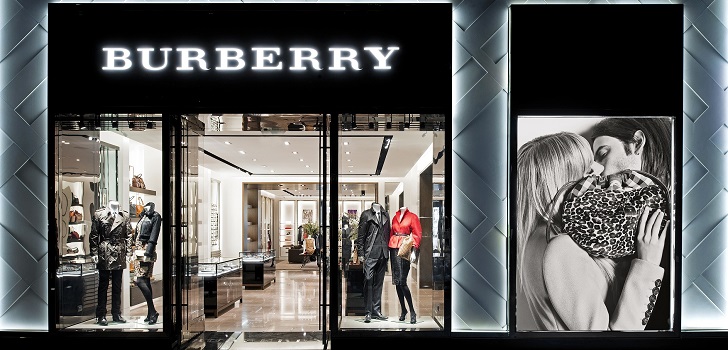 Burberry closes the exercise at double-speed. British luxury company has finished its 2018 exercise (period close on 30 March), with an increasing of 15% of its net profit, until 339.1 million pounds (436.7 million euros).
Groups' sales, by contrast, have closed 2018 downwards. In 2018, Burberry contracted a 0.4% its volume of business, until 2,720 million pounds (3,503 million euros). The group's results before taxes, on its behalf, turned upwards, with an increase of a 6.7%.
Divided by regions, Burberry's billing had soft progress within all the markets where the group operates. In Asia, the volume of business registered a growth of a 1.4%, arriving to 1,104.4 million pounds (1,422.4 million euros), while in Europe, Near East and Africa, the incomes of the company suffered a drop of 1.8%, falling until 957.7 million pounds (1,233.1 million euros). In America, Burberry's sales receded a 4.1%, until 612 million pounds (788.2 million euros).
By distribution channels, retail registered plain progress in 2018, with an increase of only a 0.4% of its sales, until 2,186 million pounds (2,815.6 million euros), while regarding the wholesale, the company increased its billing a 7.7% to 488 million pounds (628.5 million euros). Group's license business, on its behalf, soared a 53.3% in 2018, until 46 million pounds (59.2 million euros).
Regarding business segments, menswear category was the one registering a better progress in 2018, with a rise of 7.8%. Female and child's division sales grown a 3.5% and a 2.5% within the period, respectively. The beauty business of Burberry, in contrast, plunged a 50% in the same period.
The corporation has explained that is satisfied with the results obtained on the exercise, which has fit in line with their expectations. "The implementation of our new strategy is underway, and we are able to confirm our perspectives for 2020", has pointed Maco Gobetti, managing director of Burberry, on a statement.