Look!
Saks fills Fifth Avenue mural with colors
The luxury department store group presents a series of graffiti in solidarity with people with mental disorders.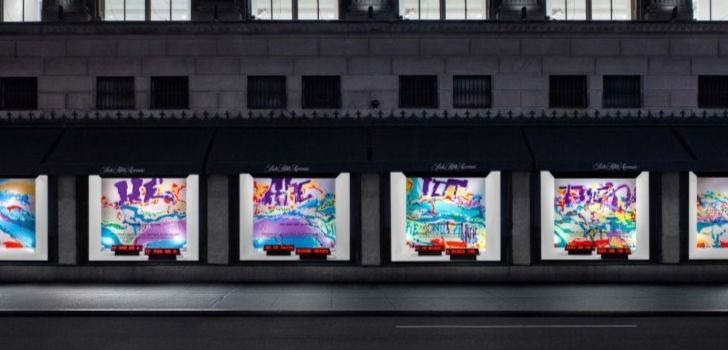 Saks stands up for mental health. The luxury department store group is exhibiting a collection of graffiti on the window display of its stores' on Fifth Avenue in New York. The murals, a work made by the artist Osvaldo Cruz, are inspired by mental health diseases and, particularly, the difficulties of living with them. The works will be exhibited at Saks in Manhattan until March 2.
The exhibition We are not alone from Cruz, a New York artist who has suffered from dementia for a several years, has been introduced thanks to the collaboration between the Saks Foundation, Fountain House, a community created to help people suffering from mental illness to overcome social isolation, and Crisis Text Line, an association that provides a 24-hour support to patients. The main objective of the exhibition is to end the stigma against these types of diseases and raise awareness of the importance of investing in the investigation of these disorders.
"The Saks Fifth Avenue Foundation is committed to increasing awareness of mental health in every community and improving access to valuable tools and resources", said Marc Metrick, president of Saks.
Ashwin Vasan, CEO of Fountain House, said they need more "leaders in different industries" that would partner with them in order to "get these disorders out of the shadows". In addition, they have announced that the Saks Foundation will organize a fundraiser for the same cause on May 13.
It is not the first time that the department store has defends this cause. In fact, the group has invested more than three million dollars in initiatives dedicated to mental health such as the Bring Change To Mind Foundation, from actress Glenn Close, the Youth Anxiety Center in New York or the department of psychiatry at Columbia University.