Look!
Zara returns to the dark side
The Spanish fashion distribution chain has released a Star Wars saga-inspired collection.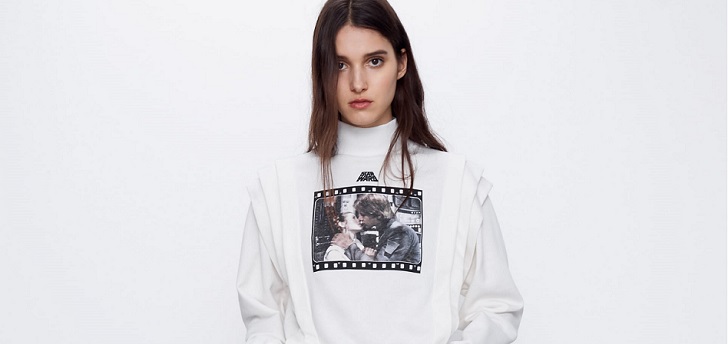 Zara returns to the dark side of the force. After Princess Leia's raincoat, Zara has once again released two other Star Wars-inspired pieces. Two months after the premiere of the last episode of the saga, The Rise of Skywalker, the Inditex chain wanted to incline in favor of all the Star Wars fans and by creating a collection with two other Star Wars garments. This time, the collection includes a sweatshirt and a t-shirt.
The sweatshirt is made of cotton and is of off-white color with a turtleneck-like collar, accompanied by ruffle details on the shoulders. On the front is stamped an image of the scene of Chapter V: The Empire Strikes Back, the kiss between Han Solo and Princess Leia, and the back has displayed the logo of the saga of George Lucas in black. The shirt is a semi-transparent, round neck, long sleeve and which has the film's printed droid on it.
The sweatshirt costs 25.95 euros 28.8 dollars and the shirt 15.95 euros (17.7 dollars). Both garments are found in the women's section of Zara and can be purchased both on the web and in the store.